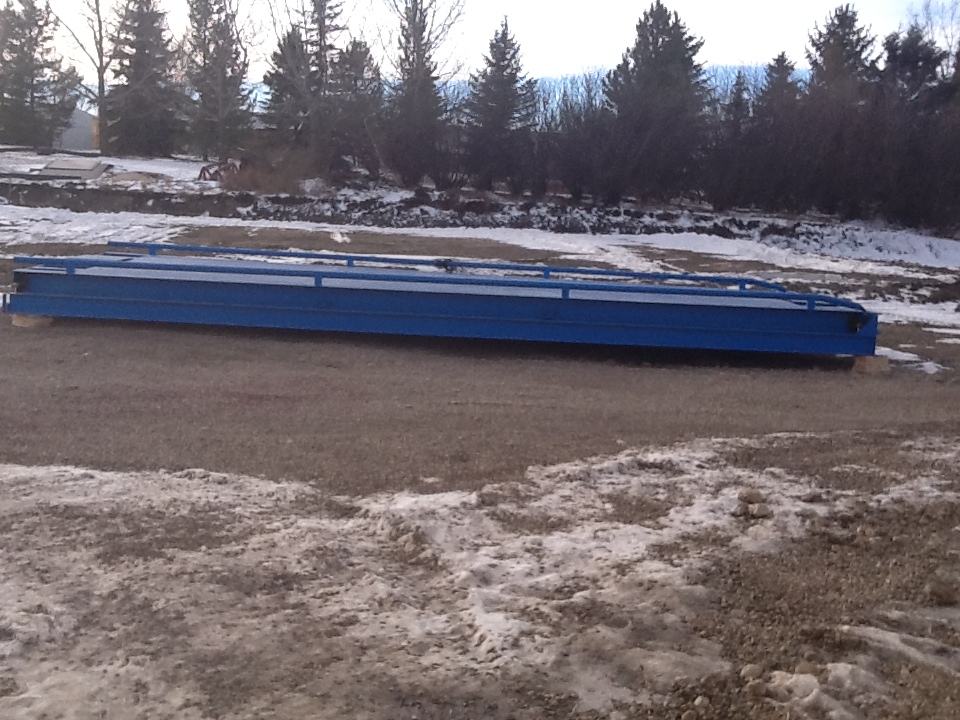 Spring is here – Scale maintenance tips
Hello everyone
It's that time of year when the snow starts to melt, grass starts to grow, flowers are getting ready to bloom and yes spring scale service is here!
A recent survey showed that truck scales (both permanent and portable) are used 65% more from spring to fall and that is why it's important to have your scales checked to make sure that they are still weighing to within Legal for Trade (1/10th of 1%) tolerance.
With all the cold/warm weather that we get in Western Canada over the winter, a lot can happen to your scale. Freezing and thawing can cause load cell cable to crack, bumper bolts to rust, rodents looking for thing to snack on and load cell cabling always seems to be very enticing. That is why it's a great idea to have one of our qualified service technicians go over your scale to make sure that it's working at maximum efficiency. Even having your scale out as little as 10-20 kgs over time can mean quite a bit of money to your bottom line.
Our qualified service technicians will go over your scale from one end to the other making sure that everything is working/running correctly. If a bolt needs to be greased, a cable needs to be replaced or your scale isn't level anymore due to the freezing/thawing of the ground. Any necessary repairs that are required to ensure that your scale is working properly, will be completed properly and in a timely manner.
Spring maintenance does not only apply to truck scales. Any scales that are used often should be checked/calibrated frequently. Warehouse scales get bumped, cabling cracks or breaks and they do  go out of calibration from time to time. Let the team at Certified Weighing Systems come up with a regular maintenance schedule. Our maintenance contracts include replacing any damaged, broken or worn parts, and we will also give you a detailed report advising you of possible future repairs that we recommend. This gives you the ability to budget for those repairs, so they don't sneak up on you and cost you money that you were not expecting to pay. Also ask us about our 5/50 replacement plan. All of this is designed to give you piece of mind and to make sure that your weighing device gives you years of proper weighing.
Over the winter our scale orders/manufacturing slows down a bit so we always build a couple of truck scales for stock and always offer spring specials. Please contact a Certified Weighing specialist for special pricing on the following specials:
–       90ft x 11ft portable steel deck truck scale c/w digital weight indicator and ticket or tape printer and round pipe safety side rails
–       Warehouse 4ft x4ft floor scales
–       Counting scales
–       Digital crane scales
SPRING SCALE TIPS
A few tips that you can do yourself to see if your scale is weighing correctly is as follows;
–       In the spring/summer check the bumper bolts on your truck scale are not tight, which can cause binding. In the summer, when the weather gets hot, steel expands. This can cause the bumper bolts to press against the abutment walls, which would cause your truck scale to weigh light.
–       Check your cabling and look for obvious cracks or any areas where mice might have chewed on the cabling which could cause your scale weights to drift.
–       Ice, mud and debris under the load cell stands can also cause your truck scale to weigh incorrectly.
–       Use a piece of equipment to check your scale (loader, forklift, etc.). drive across your truck scale in both directions placing your back tires over each set of load cells. Write down the weights and see how close they are as this will determine how close the sections are. You could also use a pick-up truck to check the sections, but the heavier the piece of equipment the better.
Please contact any one of our specialist whether you are looking for service, sales or you just want to discuss your scale options/upgrades.
Randy Radawetz
CERTIFIED WEIGHING SYSTEMS INC.